Venture Real
Estate Partners

Phone / Email

New Offerings
News Letter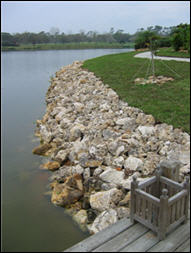 Owner would like to sell but is willing to entertain a Joint Venture or royalty arrangement with an experienced operator. One scenario might be to raise capital to up-grade the operation to take advantage of the massive business to be generated by the reconstruction of the California "Delta" levee system and is willing to share up to 40% of the business with the right joint venture partner. The product offered is RIP RAP - 12 x 8, 6 x 12, ½ ton and ¼ ton. All product has been tested and Approved by FEMA, Dept of Water Resources and the Army Corps of Engineers. Another product available is PGE Concrete, Drain Rock (3" minus), Sand Subbase (2" minus), Decorative rock Boulders and Class II AB. RIP RAP MARKET REVIEW – In February of 2009 the W.S. Army Corps of Engineers (Corps) issued a report stating that more than 100 levees in 16 states flunked maintenance inspection in the last two years and are so neglected that they could fail to stem a major flood. 41 of the levees determined to be "unacceptable" are in California. These levees received "unacceptable" maintenance ratings in Corps inspections, meaning their deficiencies are so severe that it can be "reasonably foreseen" that they will not perform properly in a major flood. As a result, the Corps is advising state and local levee authorities that the levees no longer qualify for federal rehabilitation aid if damaged by floodwaters. Thus, the state and local authorities have major pressure on them to remedy the levee problems.
OFFERED at $6,000,000.
---
Email us at Bill@VentureRealEstatePartners.com
The above information was derived from sources we deem to be reliable, but are in no way guaranteed for accuracy by Venture Real Estate Partners. Interested parties must do their own due diligence studies, consult with third party experts, and their Attorney prior to entering into a legal binding agreement to purchase subject property.