Venture Real
Estate Partners

Phone / Email

New Offerings
News Letter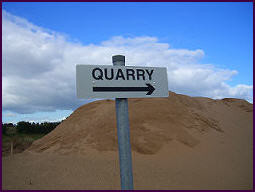 Well managed operation in Southern Oregon with large client base. Total reserves are approximately 9 million tons that has received a "Noxious Weed Free Certification". Products offered, including but not limited to are, crushed rock, round rock, deco rock, top soil, landscape materials, cobble and road building. Drill Hole Log (#10) shows; 1-4' depth, rock fill, 4-8' fine brown sand, 8-9' wet fine brown silty sand, 9-12' wet brown gravelly sand, 12-16' brown gravelly sand, 16-18' grey sandy gravel, 18-26' wet grey gravelly sand, 26-30' very wet brown silty gravel, 30-39' wet grey sandy gravel, 39-43' very wet grey gravelly sand, 43-47' very wet clean grey sandy gravel, 47-51' very wet brown silty gravel, 51-55' very wet gravelly sand, 55-57' very wet grey silty gravelly sand, 57-66' very wet black sand, 66-71' very wet grey silt, 71-80' grey clay.
Offered at $3,150,000, or extraction agreement at $1.05 per ton.
---
Email us at Bill@VentureRealEstatePartners.com
The above information was derived from sources we deem to be reliable, but are in no way guaranteed for accuracy by Venture Real Estate Partners. Interested parties must do their own due diligence studies, consult with third party experts, and their Attorney prior to entering into a legal binding agreement to purchase subject property.